Get The Official Canary Wharf Fan Park Pocket Guide
includes programmer, site map, events & more
Get It
CELEBRATE THE TOUR AT ICONIC LOCATIONS ALONG THE ROUTE
THE FAN PARKS ARE FREE EVENTS WHERE YOU CAN WATCH THE TOUR DE FRANCE LIVE ON THE GIANT SCREEN, FOLLOW THE STAGE OF THE DAY, RELIVE ITS HIGHLIGHTS, AND ENJOY THE FESTIVAL ATMOSPHERE THAT THE TOUR BRINGS. THE PERFECT PLACE FOR SUPPORTERS TO COME TOGETHER AND CELEBRATE CYCLING. VISITORS WILL ENJOY THE BEST INTERACTIVE ACTIVITIES, POP-UP CYCLING FOCUSED RETAIL STALLS, CAFÉS, BARS, AND CYCLING DEMONSTRATIONS. ENJOY ALL THAT THE TOUR DE FRANCE FAN PARKS HAVE TO OFFER!
Le Village
Each Fan Park will host a Foodies Festival where number of artisan and pop-up gastro food vendors will provide a range of delicious cuisine. There will be a number of bars so visitors can come unwind and relax in the festival atmosphere of le village. Each Fan Park will have it's own unique twist.
TRANSPORT FOR LONDON
The Tour de France, the world's largest annual sporting event, is coming to London on Monday 7 July 2014. Tube and Rail will be the best way to get around the affected areas of London, with services in central London running as normal. For further information about how roads and transport will be affected visit their website.
Enter To Win
Enter your details for the chance at some unbelievable prizes, provided by the the best new bingo sites in UK. We have a pair of VIP tickets to the finish line in Paris and a pair of tickets for the finish line in London to give away along with yellow, green and polkadot jerseys and many, many more. NEW COMPETITIONS ANNOUNCED DAILY!
Latest News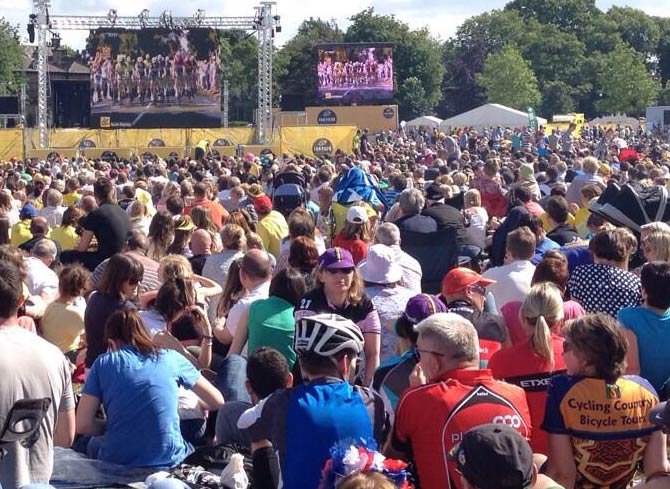 WHY I LOVE THE TOUR (IN SPITE OF LANCE ARMSTRONG)